Girls Just Wanna Have Fun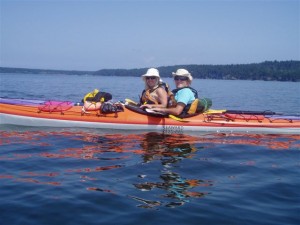 Share an adventurous time on the water with your girlfriends, Mom or daughter.  Laugh as only a group of all women can!  Kayak through coastal islands and over underwater marine gardens.  Camp nestled in the woods, go for a hike on the sea trail or a swim in the warm waters.  Relax on the beach with a good book while dinner is cooking.   No previous kayaking experience is necessary.  Tour includes certified guide, kayak, gear, camping equipment, meals, snacks and beverages, camping fees, and instruction.  See more pictures of our Girls Just Wanna Have Fun Weekend.  Create your own weekend… give Jan a call 250.755.6702  and she can make it happen!
Tour Length: 2 days
Cost: $325.00/person + 5% goods and service tax (gst)
Trip Date: Call Jan to arrange if you have a group of girlfriends who would like to go!

Fabulous Friends Weekend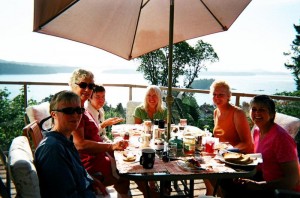 Now we know that you girls like the fun of kayaking, but you did all your camping stuff awhile back.  A comfy bed, a hot shower and a glass of wine on the deck overlooking a fabulous ocean view after your day on the water exploring the islands, suits you much better.  Have a Girls Getaway in the Spring …. get a bit wet… doesn't matter… hot shower and hot tub await you with your glass of wine!
So gather your best friends and come over to the Island (if you aren't here already!) and let Adventuress offer you a little luxury.
The Fabulous Friends package ($330/person based on double occupancy) includes:
One night stay at a fabulous waterview B&B*
2 days of kayaking the magical Gulf Islands
Welcome cocktails and appies (and oh, we may sneak in some chocolate)
Detailed instruction and safety orientation
Kayak (choice of a single or a double kayak to paddle with a friend)
All  approved Canadian Coast Guard gear
Yummy snacks, farm fresh breakfast, hearty dinner, deli lunches and beverages and
Your fabulous hostess with the mostess and guide extraordinaire – me! (no modesty here).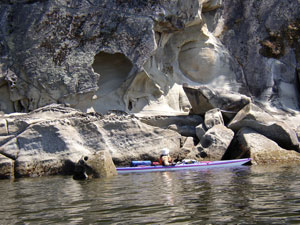 Tour Length: 2 days
Cost: $330/person based on double occupancy i.e. share a room (GST on Adventuress' portion)
Trip Dates:   Book your own group… we can start as early as April!

* Please note that Adventuress has partnered with Fiddicks Farm B&B and they will take your booking and accommodation reservation for their portion of the package.  Dates have been reserved for Adventuress.  Some gals like to come over a day before or stay a day after the tour.  No problem… you can book additional nights with Fiddicks Farm B&B.  Anne Fiddick is your host.
Read review of Fabulous Friends Weekend.
Call Jan at 250.755.6702 or e-mail to receive your registration package with more details.