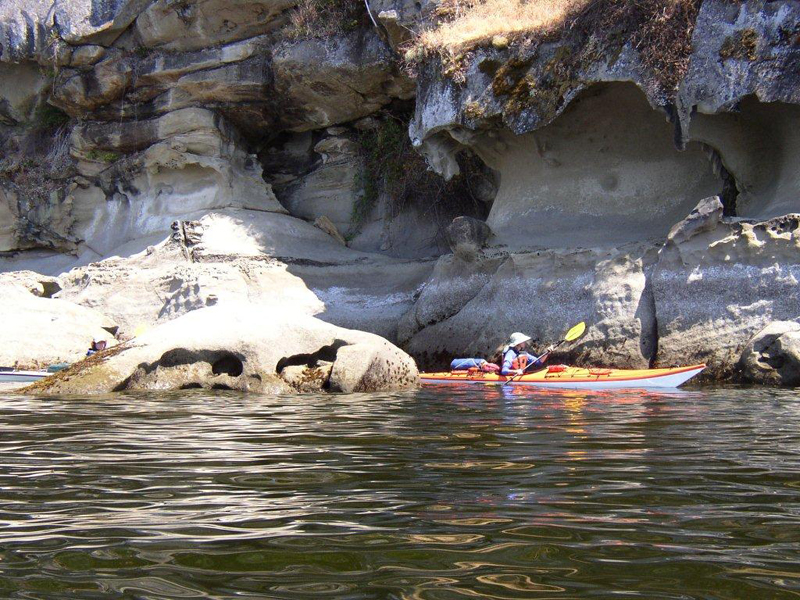 This could be you exploring the Gulf Islands by kayak!
Escape to the Islands for 3 days!  Geared for the paddler who wants to feel the wildness, surround themselves with quiet, and get away from the bustle of their busy life. Paddle the channels and the open waters in the Strait of Georgia and enjoy breathtaking views of coastal mountains. Exposed ledges reveal a favourite haul-out for harbour seals.  Kayak under magnificent sandstone cliffs and walk along white shell beaches. Camp under the stars and enjoy hearty meals by the campfire.  Sleep peacefully in the shelter of old growth forests.  All yours for the asking!
The Gulf Islands Escape package includes:
3 days of kayaking, 2 nights of camping in the magical Gulf Islands
Professional, certified, knowledgeable and personable guide(s) 🙂
Kayak (your choice of a single or double fibreglass boat)
Detailed instruction in paddling strokes and safety procedures
All Transport Canada regulation gear (lifejacket with whistle, spray skirt, pump, paddle, tow rope)
Camping equipment (except sleeping bag and pad which can be rented at a nominal cost)
Dry bags for your personal gear
Healthy meals, yummy snacks and non-alcoholic beverages (feel free to bring your fav wine or bevy to drink after paddling is done for the day)
Camping, launching and Park  fees
A welcome package with more details will be e-mailed upon enquiry and registration.
Thank you for a fabulous kayaking trip.  How do you replace the "best kitchen in the world" and a sky bathed in shooting stars?  It was all absolutely wonderful.  Thank you for introducing us to Adventuress.  Fran
See more Gulf Islands Escape pictures.
Tour Length: 3 days
Cost: $599 + GST
Trip Dates: To be determined or call to book your group.
Co-ed trip dates for 2020:  May 16-18, August 20-22.

Call Jan at 250.755.6702 or e-mail to receive your registration package with more details.