Broken Group Islands in Pacific Rim National Park Reserve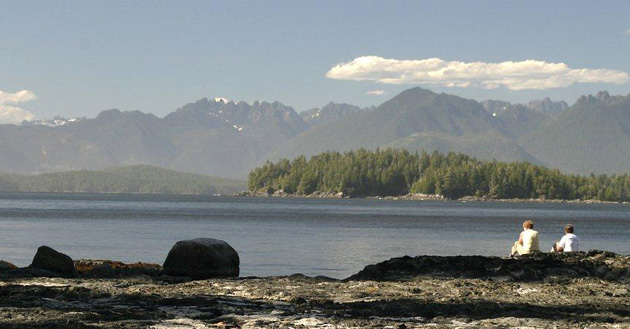 Situated in Barkley Sound on the west coast of Vancouver Island, the Broken Group Islands offer spectacular kayaking among countless islands and islets. Home to the Huu-ay-aht and Tseshaht First Nations for thousands of year, we travel back in time as we paddle into lagoons with ancient fish traps, search for their canoe runs hidden along the rocky shores, and see the abundance of mussels, clams, and oysters which sustained them.  As we hike the sun dappled trails, we revel in the towering old growth rainforests of Douglas fir and cedar, their sacred tree.
We base camp which leaves more time to paddle and enjoy all the sights!  Campfires glow at night as we sit and look out to a starry night before we trundle off to our tent in the stillness of the forest or on the beach, listening to the waves as we drift off to sleep.
Ah… tomorrow is another day … I wonder what adventure awaits us?
No previous kayaking experience is necessary but a good level of  health and fitness is required. We paddle anywhere from 3 to 5 hours in a day with stops every 1.5 to 2 hours. Bring your sense of humour and adventure for this once in a lifetime trip!
Package includes kayak, gear, all camping gear (except sleeping bag and pad), camping and Park user fees, launch fees, healthy and hearty meals, snacks and drinks; detailed instruction and safety orientation, personal fit to kayaks and gear, wonderful guides (we are modest) and spectacular scenery!  Check out our photo gallery for pictures from our trips.  Contact Jan to receive your registration package with all the details.
Tour Length: 4 days
Cost: $1250+ gst
Trip Dates: TBD since this paddling location was closed due to covid last year.
Our 2020 trip is the 5 day Women in the Wild Kayaking Skills and Paddling Adventure in the Broken Group Islands.  See Wilderness Adventures for Women for more details.

This is something I have dreamed about doing for years, and when the opportunity came up, we were blown away by how special the whole trip was.  Jan and her colleague looked after us so well with their competence and ease of manner, and we felt very safe.  Their knowledge and attention to detail was phenomenal and it was such an enjoyable trip all round.  The scenery wasn't too shabby either!!  We lucked out with weather and whales too.  I would definitely recommend Adventuress Sea Kayaking and hope to take another trip with them one day."  Catherine, Nanaimo
.