Hello Fellow Adventurers & Adventuresses!
Adventuress Sea Kayaking would love to take you all out paddling to enjoy the awesome wilderness we have off these shores of Vancouver Island.  We know how important it is to mental health and elevation of spirits to get outside and exercise.  Kayaking offers us a chance to de-stress, breathe fresh air and exercise, all the while enjoying the wildlife and beauty of our Nanoose area.  We had a  covid-safe season the last two years and feel blessed that kayaking is one activity where we can social distance, enjoy the camaraderie of fellow paddlers and keep safe.  
UPDATE – January 15, 2022:  Adventuress will be opening in March for tours, rentals, lessons and our Paddle Canada Basic and Level 1 Kayaking Courses.    Adventuress Sea Kayaking agrees to provide, to the best of our ability, covid-safe tours, rentals, and lessons according to Public Health Agency of Canada (PHAC) government regulations. According to our Provincial Health Officer, Dr. Bonnie Henry, there is a very low chance of getting the virus while outside and maintaining social distancing and not gathering in large groups. As well public parks are opened at this date and we feel it is now in the best interest to our clientele to offer these outdoor wilderness experiences.
To ensure public and Adventuress staff safety, Adventuress has written Covid-Safe Guidelines which include protocols on social distancing, small group size, kayak and gear cleanliness, instruction, payment and signing of waivers. We also ask that you have not had COVID-19 or been around anyone who has, are currently in good health, have been following the government safety guidelines and quarantining for 14 days if you have been travelling internationally.  Call Jan at 250.755.6702 or email adventuress@shaw.ca to book your tours and lessons.  
Let Adventuress take you on a kayaking adventure guaranteed to thrill you. From quiet day paddles to exciting multi-day adventures, Adventuress has the tour for you!
Paddle with the Orca whales, gaze in awe at 1000 year old cedars, savour the last moments of a sunset on a white shelled beach, hike in the ancient rainforests. All of these adventures are awaiting you off the coast of beautiful Vancouver Island, British Columbia, Canada. Come and join us!
Adventuress is based in Parksville on the east coast of Vancouver Island and is open from March to Thanksgiving with lots of opportunities to kayak.  So if the weather is fine and you feel like paddling, give us a call!  Bring your friends, family, work associates or enjoy a paddle while your spouse is at the conference.  Adventuress can plan a special trip just for your group.  No kayaking experience is necessary for the day tours; but some for the multi-day adventures.  A gear list of what to wear and bring and directions to the launch location is sent upon registration.    We also rent kayaks and do fun introductory lessons and full day certified kayaking courses for beginners.
All tours include  paddling instruction, safety orientation, kayaks, Transport Canada regulation gear, dry bags for your personal gear and experienced, personable, certified guides … we like to have fun 🙂. Spectacular scenery is free!!
Here's a little insight to what Adventuress is all about Kayaking in Parksville with Adventuress Sea Kayaking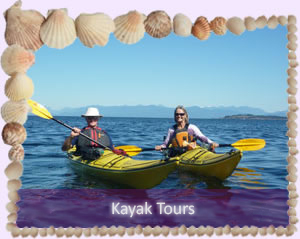 Sweeping mountain vistas across the Strait of Georgia, islands to explore, curious harbour seals, colourful seastars and boisterous sea lions are all here waiting for you.  Come paddle with Adventuress and find out for yourself!  Everyone welcome, especially families!  Read More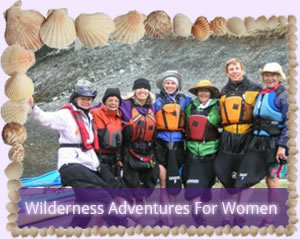 Enjoy the camaraderie of an all-women's kayaking trip. Bring your friends and come prepared to laugh and paddle your way through some of the most spectacular scenery that British Columbia, Canada has to offer… Read More
             Vancouver Island Map, British Columbia, Canada