Want to experience the Wild West Coast here on beautiful Vancouver Island?  A day tour just isn't going to do it for ya?  Then check out our multi-day adventure packages. We are blessed to live in such an extraordinary place and want to share it with you.  These are trips of a lifetime ranging from 2 to 4 days.  Carve out some time for you and your friends or family or share a getaway with that special someone in your life.  You won't be disappointed… you will be making memories.  No excuses now!
Broken Group Islands in Pacific Rim National Park Reserve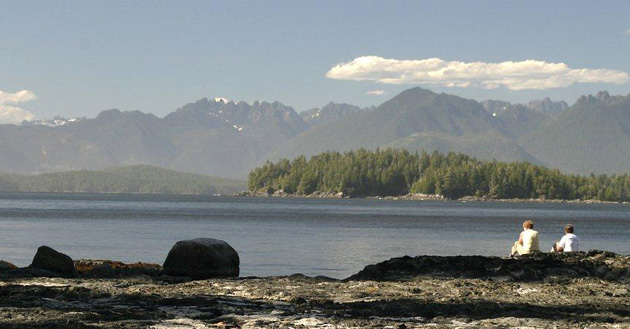 Situated in Barkley Sound on the west coast of Vancouver Island, the Broken Group Islands offer spectacular kayaking among countless islands and islets. Home to the Huu-ay-aht and Tseshaht First Nations for thousands of year, we travel back in time as we paddle into lagoons with ancient fish traps, search for their canoe runs hidden along the rocky shores, and see the abundance of mussels, clams, and oysters which sustained them.  As we hike the sun dappled trails, we revel in the towering old growth rainforests of Douglas fir and cedar, their sacred tree.
We base camp which leaves more time to paddle and enjoy all the sights!  Campfires glow at night as we sit and look out to a starry night before we trundle off to our tent in the stillness of the forest or on the beach, listening to the waves as we drift off to sleep.
Ah… tomorrow is another day … I wonder what adventure awaits us?
No previous kayaking experience is necessary but a good level of  health and fitness is required. We paddle anywhere from 3 to 5 hours in a day with stops every 1 1/2 to 2 hours. Bring your sense of humour and adventure for this once in a lifetime trip!
Package includes kayak, gear, all camping gear (except sleeping bag and pad), camping and Park user fees, launch fees, healthy and hearty meals, snacks and drinks; detailed instruction and safety orientation, personal fit to kayaks and gear, wonderful guides (we are modest) and spectacular scenery!  Check out our photo gallery for pictures from our trips.  Contact Jan to receive your registration package with all the details.
Tour Length:  4 days
Cost: $899 plus gst
Trip Dates: For 2018, this trip is an all-women trip July 10-13. See  https://adventuress.ca/wilderness-adventures-for-women/  for more information.

This is something I have dreamed about doing for years, and when the opportunity came up, we were blown away by how special the whole trip was.  Jan and her colleague looked after us so well with their competence and ease of manner, and we felt very safe.  Their knowledge and attention to detail was phenomenal and it was such an enjoyable trip all round.  The scenery wasn't too shabby either!!  We lucked out with weather and whales too.  I would definitely recommend Adventuress Sea Kayaking and hope to take another trip with them one day.  Catherine, Nanaimo
Gulf Islands Escape
Escape to the Islands for 3 days!  Geared for the paddler who wants to feel the wildness, surround themselves with quiet, and get away from the bustle of their busy life. Paddle the channels and the open waters in the Strait of Georgia and enjoy breathtaking views of coastal mountains. Exposed ledges reveal a favourite haul-out for harbour seals.
Kayak under magnificent sandstone cliffs and walk along white shell beaches. Camp under the stars and enjoy hearty meals by the campfire.  Sleep peacefully in the shelter of old growth forests.
The Gulf Islands Escape package includes:
3 days of kayaking, 2 nights of camping in the magical Gulf Islands
Professional, certified, knowledgeable and personable guide(s) 🙂
Fibreglass kayak (your choice of a single or a double  boat)
Detailed instruction in paddling strokes and safety procedures
All Transport Canada regulation gear (lifejacket with whistle, spray skirt, pump, paddle, tow rope)
Camping equipment (except sleeping bag and pad which can be rented at a nominal cost)
Dry bags for your personal gear
Healthy meals, yummy snacks and non-alcoholic beverages (feel free to bring your fav wine or bevy to drink after paddling is done for the day)
Camping, launching and Park  fees
A welcome package with more details will be e-mailed upon enquiry and registration.
Thank you for a fabulous kayaking trip.  How do you replace the "best kitchen in the world" and a sky bathed in shooting stars?  It was all absolutely wonderful.  Thank you for introducing us to Adventuress.  Fran
See more Gulf Islands Escape pictures.
Tour Length: 3 days
Cost: $599 + 5% goods and service tax (gst)
Trip Dates: August 2-4, 2018.    Feel free to book tour dates for your group!

Gulf Islands Getaway
Short on time, but need to get away?  Join us for our 2 days of kayaking, one night of camping in a marine park.  Beautiful beach, sunset views and hiking trails.  Great for a family getaway.  Paddle by sculpted sandstone cliffs (an art gallery all on its own!), over underwater marine gardens of colourful seastars and anenomes, and enjoy the breath taking views to the mountains.  All yours for the asking!  Sign me up Jan!
Your Gulf Islands Getaway includes a certified guide, your choice of a fibreglass single or double kayak, all the regulation Transport Canada gear, detailed instruction in paddling strokes, safety orientation, hearty and healthy meals and beverages, camping equipment, dry bags for your personal gear, and camping & Park use fees.

Awesome! Jan provides more than a simple kayaking trip; it is a complete experience (helped by amazing views – including seeing bald headed eagles soaring over our heads). She is an amazing hostess and guide. Just like Mary Poppins, her bag (for that read 'stores'!) are never ending and full of gorgeous food to satisfy the needs of hard-working kayakers.Jan is great company and made the trip a memorable and 'epic' experience! My husband is a fairly experienced kayaker but this was really my first time out and I felt perfectly safe and supported at all times.   Next time we holiday in BC, our priority will be to book another trip with Adventuress Sea Kayaking! Thanks for a great introduction to BC and a wonderful experience! Claire, UK 
See more Gulf Islands pics.
Tour Length:  2 days
Cost:  $299.00 + goods and service tax (gst)
Trip Dates: July 5 & 6, 2018, August 23 & 24, 2018.
Other dates available.. book your own family or friends' trip.
Call 250.755.6702 or e-mail to receive your registration package with more details.
Kayaking with the Orcas – Adventuress Goes Aboriginal!
We paddle back in time to an abandoned Native village, Mamalilaculla, scene of the last Potlatch.  This area is often referred to as The Land of the War Canoe, which has been inhabited by the Kwakwaka'wakw (Kwakiutl) for tens of thousands of years.  A region which is rich in native culture and heritage with pictographs, burial sites and shell middens and offers a fascinating glimpse into Kwakwaka'wakw  culture.  We step out of our kayaks and land on these ancient shores.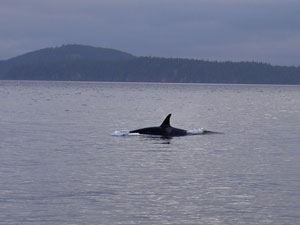 And then there are the whales and all the other incredible wildlife that this area offers up.  Johnstone Strait is the home of the Killer (Orca) whales, one of THE best places in the world to view them in the wild.  They gather here to feed in the rich salmon waters from May to October. What could be more of a thrill than to hear the whoosh of their breath and the splash of their bodies as they swim up the Strait in their ancestral fishing grounds. Adventuress always adheres to whale watching guidelines in order to minimize any disturbance to these "blackfish" (the Native term for Orcas).
Orcas are by no means the only wildlife to see here. Pacific white-sided dolphins, black bears, eagles, minke and grey whales, and porpoises all make Johnstone Strait their home.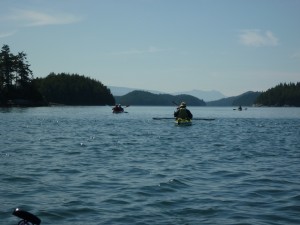 Our days are spent exploring clusters of scenic islands, paddling into majestic Coastal Mountain views, and stepping back into time as we wander through an abandoned native village. Nights are spent enjoying hearty meals around a glowing campfire, swapping tall tales, and enjoying each other's company.  Okay, naps are allowed!
Thanks so much for the wonderful trip.  It was such a treat to be waited on and not have to worry about meals and packing and routes.  The kayaking was fantastic – in retrospect – and the whales, sea lions and dolphins – awesome as always."  Patti
This tour is for an intermediate paddler due to the sometimes challenging weather, wind and wave condition that we may encounter. Instruction is given before each tour begins. Good health and a reasonable fitness level is required.  Call Jan to discuss.  Sometimes it is calm!  If you want to do some training before you join us, see Adventuress' Paddle Canada full day certified course for beginners.  This course will give you a strong foundation in the basics, rescue training and increase in self confidence!
See pics of previous trips and check out Adventuress' Facebook.
Tour Length: 4 days
Cost: $925.00 + 5% goods and service tax
Trip Dates: July 20-23, 2018.

Contact us to register and for an extensive pre-trip information package including trip overview, itinerary, directions to launch, a complete list of what to bring, etc.  Any other questions?  We would be happy to assist you!
Call 250.755.6702 or e-mail to receive your registration package with more details.
Halla Kas La (Go In Peace)